Saving $$$$ With Coupons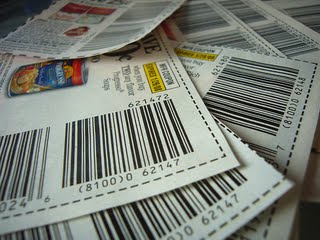 My husband went shopping at Banana Republic a couple weeks ago and came home with a bunch of new clothes. The first thing I asked was if he used any of the coupons we have had sitting in our kitchen, he of course said "No, it was a spur of the moment shopping trip". Ugh. Okay, so in the meantime he has worn the clothes and taken off the tags, while we kept getting more 25% & 40% off coupons.
I think since we got married and even more since I had Brody I have been using coupons. I just started getting ones that were $5.00 off for diapers and I didn't want to just throw them out. Now it has become a little bit of an obsession. I get annoyed when I have to buy diapers and don't have my $5 or $6 dollar off BJ's coupon. I also recently saw Bill Rancic (the first winner of The Apprentice) on Rachael Ray talking about people who use coupons. He was telling everyone how much people can save per year and he said some statistic about how the majority of people who use coupons make $75,000+ and the people who use coupons the least make under $20,000… interesting…
So anyway, I took my coupons, Matt's clothes, and went to Banana. Without even looking at the clothes in my bag, the cashier took my receipts, my coupons and refunded our credit card $98.00!
Awesome, right?!? For doing nothing, for making a quick trip to Banana and handing in my coupons! J
So now when I see certain coupons, I am going to share them with you guys. Even if it is just a dollar here, two dollars there… just think, if you saw that dollar laying on the street you would pick it up, right?
Coupons:
http://www.rachaelrayshow.com/
Click on Coupon Guide (Valid through Oct 24th)
A bunch of 20% off coupons~ Arden B, Build-A-Bear
www.alice.com
Bill Rancic discussed alice.com on Rachael Ray, he said it is a wonderful website where you can buy essential dry goods. Alice.com tracks your purchase history and emails you when you are running low on certain items. They also offer competitive prices and coupons on their site.
http://www.iseeme.com/oriveownna.html
My Very Own Name Personalized Storybook~ free shipping & signed by the author (offer ends Oct 18th)
www.diapers.com
$10 off your first order & 40% off Halloween costumes & free shipping!
http://www.earthsbest.com/promos/promos.php?cat=coupon
Earth's Best Coupons
(I used the $1 off 10 jars of food all the time when Brody was eating baby food, & I still use the $1 off 2 products whenever I buy B his crunchin' grahams)
www.coupons.com
Awesome site!!
www.couponmom.com
Great site~ has Enfamil & other formula coupons and free samples.
www.AAA.com
If you have AAA~use it! Ask for your AAA discounts at hotels, restaurants, & check AAA for coupons.
http://www.mybambino.com
Sale going on & free shipping on all orders over $60.
http://piperlime.gap.com
30% off on select styles~ ends Oct 25th.
** It does help to be organized and keep your coupons in one place. Target has little plastic coupon holders for $1 that really come in handy!**
Labels: coupon, coupon mom, save, saving, saving money