Traveling With Baby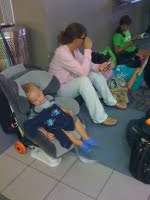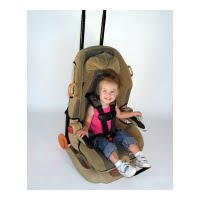 In August my husband Matt and I took our first vacation with Brody to Aruba.
Now, I have never been one to be afraid of flying, my step-mother is a flight attendant and since I was little I have flown all over. For some reason with this trip I was having horrible anxiety. I realized it was because it was going to be Brody's first flight and the anxiety was more about the logistics of the trip. How will I entertain him in a small confined space for four plus hours? Do I bring our own pack-n-play or use the hotel's? (other answers coming soon… )
Do I bring his car seat, and if so, how do I transport it?
Our close friends who recently traveled to Europe with their one year old gave us a great piece of advice.
They told us to about the gogo Kidz Travelmate. It is basically a plastic attachment with wheels that hooks onto to your convertible car seat. The best part, you can check your stroller and your child can sit in the seat while you pull them through the airport. Brody loved it! It is easy to attach and take off when you need to either gate check the seat or fasten it into the airplane seat. It also fits perfectly in the overhead compartments. It was a life saver! So many people commented on our new device, especially the parents who were lugging their own large car seats while trying to push a stroller.
http://www.gogobabyz.com/product-i14550-c26-g6-b0-p0-gogo_Kidz_Travelmate_.aspx
gogo Babyz also makes an version for infant seats, Infant Cruizer.
http://www.gogobabyz.com/product-i14474-c27-g6-b0-p0-Infant_Cruizer_AT.aspx
Labels: airplane, baby, blog, car seat on airplane, introduction, mother, travel, traveling